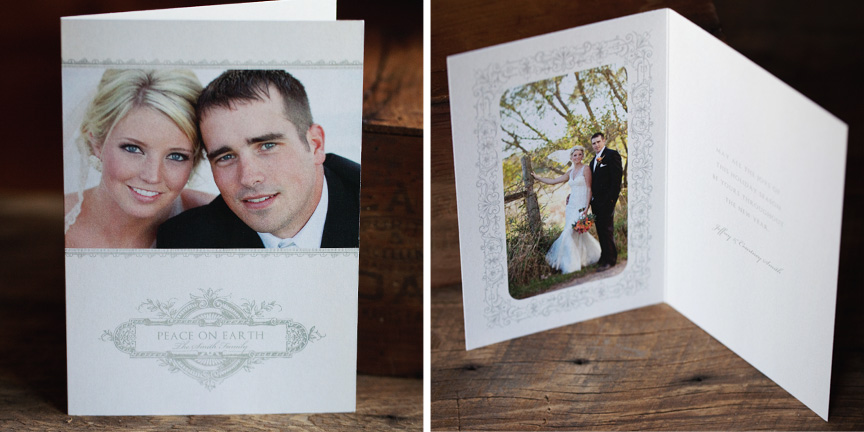 Simple elegance with touches of defining detail, the Creme De La Creme Collection was created using various shades of cream. This specific collection was carefully crafted to serve my portrait clients year round. Not only will I offer this collection throughout the holiday season, I plan to use them as Save the Date cards, Birth Announcements and High School Graduation Open House invitations. A perfect collection for clients with a taste for luxury.
The CRME DE LA CRME COLLECTION includes:
- Six 5.25 x 7.25 card designs (all designs include either a fold-open option or an alternate photo layout on the front)
- Will work with a majority of labs that offer press printing services (Miller's, MpixPRO, ProDPI, WHCC, ACI, etc...)
- Layered .psd files for easy customization (some elements are flatted into the background and may not be changed/removed)
- Colors and text can be changed on most designs making them versatile for year-round use as Wedding Thank You Notes, Save the Date Cards, Birth Announcements, High School Senior Grad Announcements, etc...
- Compatible with Photoshop or Photoshop Elements
- Instant download at the point of sale
- ProSelect templates available upon request.
'Tis the season for stocking up on a variety of card templates for the 2011 holiday season so Jamie Schultz Designs is offering a quantity discount on all holiday cards! The discount is as follows:
- 2 sets- 15% off
- 3 sets- 20% off
- 4 sets- 30% off
- 5 sets- 35% off
- 6 sets- 40% off
7 sets- 45% off
-8 sets- 50% off