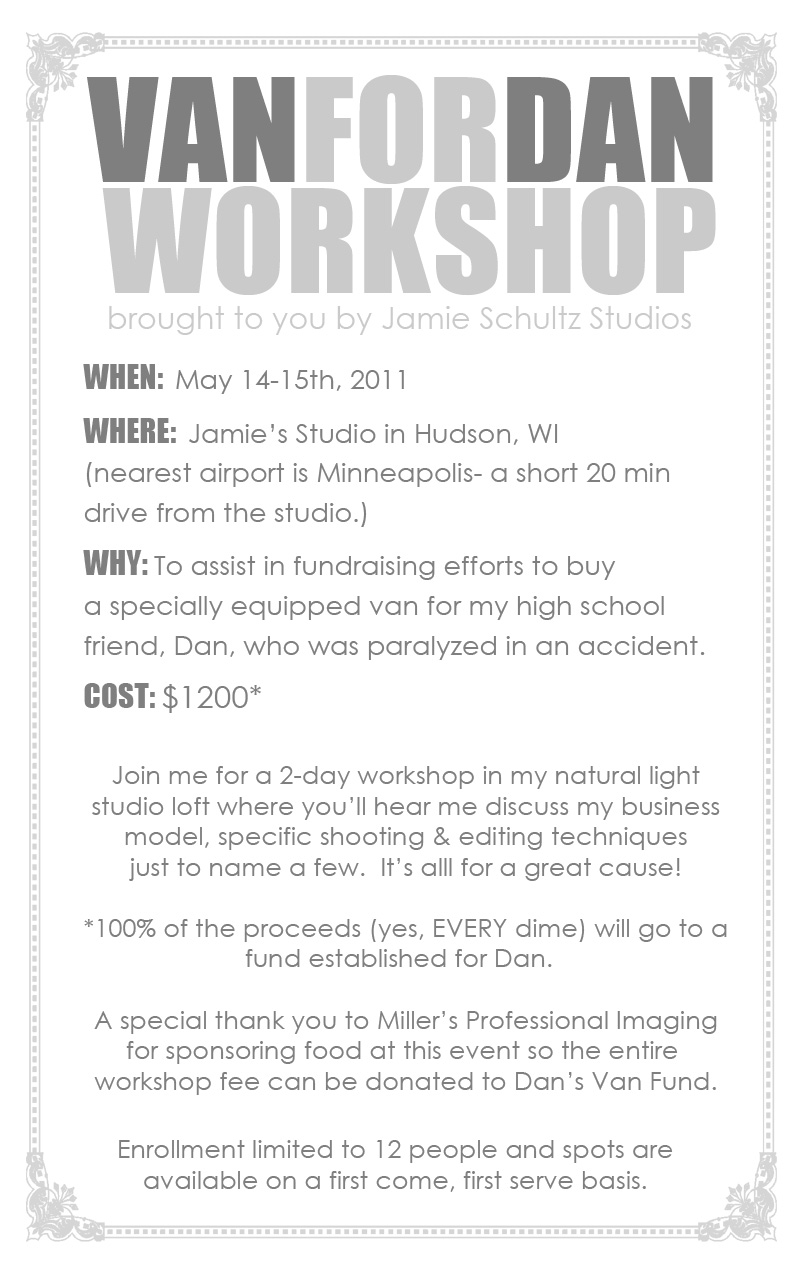 Last December my husband and I decided to do a project with the kids to experience how it feels to give back. We started something we called,The Giving Jar, where the kids pulled a giving task out of the jar every morning in December as a way to countdown the days until Christmas. Watching the kids perform the tasks filled my heart with so much joy that I really didnt want it to end. I decided that I wanted 2011 to be a year of giving on a more regular basis.
So far this year weve all completed several small random acts of kindness, but Ive been patiently waiting for an opportunity to do something bigger. I knew that if I was patient and didnt let the chaos of life distract me that something would present itself. Last week, I was browsing through Facebook and saw a post by the father of one of my high school friends, Dan, who was paralyzed in a horrible car accident several years ago. Dans dad posted saying that Dan was in desperate need of a new specially equipped van to help keep him mobile. They were asking for donations of any kindbig or small. I knew as soon as I read it that this was my chance!
Ive been asked often to do a workshop for photographers who desire to grow their businesses to a new level. As a mom of two busy boys Ive never been able to work it into my schedule. However, I knew this project was too important to pass up. It felt so obvious to me that this is what I was supposed to do and Im happy to be moving forward with the workshop. This will be my one and only workshop so Im planning to make it a good one! :)
*UPDATE: I'm absolutely amazed at the response to this workshop and the generosity shown by vendors in this industry! Participants are in for a real treat at the Van for Dan workshop!
Following is a basic overview of some topics that will be covered during the workshop:
The Van for Dan workshop will be held in my studio in the quaint river town of Hudson, Wisconsin on May 14-15, 2011. Hudson is a short 20-minute drive from the Minneapolis, MN airport (MSP). This workshop is geared toward working professional photographers who are eager to take their businesses to the next level. Participants should have confidence shooting in full manual mode.Below is a brief overview of what the workshop will include:

Day 1: (9am-6pm)
Ill begin our day by explaining how understanding and exceeding my clients expectations has helped me achieve a level of success I never dreamed possible. Detailed information about my work flow from the time a client books all the way through delivery of the order will be provided. Youll take a pre-lunch stroll through the quaint downtown area of Hudson, WI before returning to the studio for a working lunch where you will watch me do a live shoot. After lunch Ill provide specific information about how I interact with subjects to promote honest and sincere reactions. We will also discuss detailed editing techniques I use to subtly enhance my images without overdoing it. Then well end the day with ample time for participants to practice the techniques Ive shared on a variety of models both in the studio and in the downtown area of Hudson.
Day 2: (9am-5pm)
Today we will focus on the business side of things including specific pricing & package strategies. Ill provide specific information on how I conduct viewing appointments and how I exceed client expectations through my product offerings. Well also discuss innovative uses for a variety of products on the market today. Plenty of time will be allowed for any questions you may have!
Bring your camera, laptop (optional), and a happy heart because you are doing something great for someone in need!
Dan and his assist dog, Yaeger: