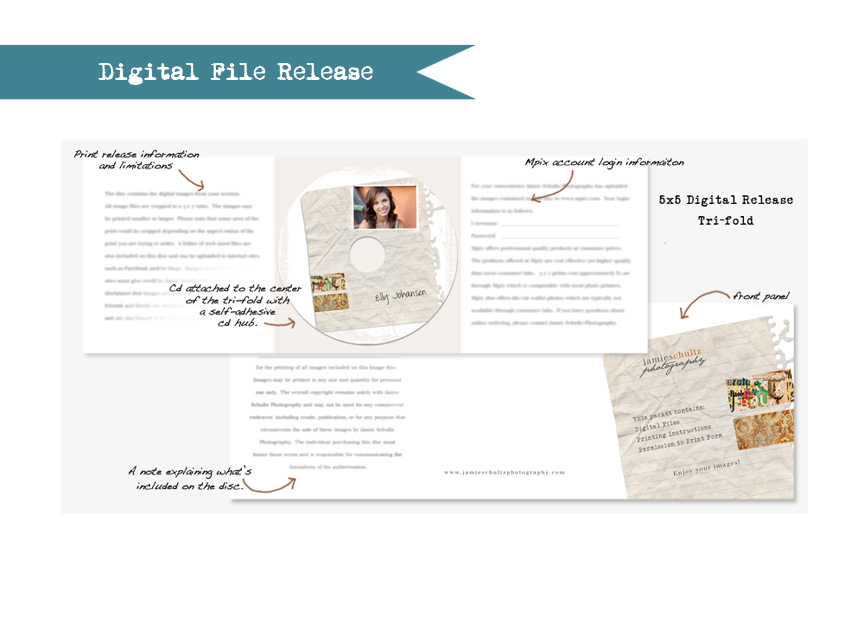 One question I'm asked often is how I release digital files to my clients. I have to admit that I resisted selling digital files for quite some time, but as the demand for the option among my clients grew (especially from my high school senior clients) I knew I needed to find a way to make it happen. The only way I knew I could be confident offering a print release on digital files was to provide a quality print solution to my clients. Over the past year I've implemented a system that has received rave reviews from my clients so I thought I'd share it with all of you who have asked. Here's a brief overview of how it works once a client orders a package that includes digital files: (Please note that my digital files are included in a collection that includes a variety of products i.e. books, canvas wall prints, etc... This ensures that my clients end up with physical professionally printed products in their home and not just a disc sitting in their desk drawer collecting dust.)
1) I create an account for my client at www.mpix.com using their e-mail address.
2) Upload the digital files included in their package.
3) Send an e-mail to my client with their login information to Mpix with a note explaining that the physical discs will be delivered with the rest of their print order.
4) When I place my clients order through my lab I order TWO discs. One disc goes into the tri-fold shown above and I refer to that as the "Safekeeping Disc" and encourage my clients to store the disc in a fireproof safe. Included in the tri-fold is their Mpix login information with instructions on how to order and an explanation of what is included on the disc. I adhere the Safekeeping Disc to the tri-fold using a self-adhesive CD hub available on-line or at most office supply stores. The other disc, a "Keepsake Disc",goes into a custom hardcover case with my client's photo, name & graduation year (if applicable).
What my clients have loved about this system is that they have an opportunity to order great quality images from Mpix at consumer prices well before their print order arrives. My high school senior clients love getting their hands on die-cut wallets within 24 hours of me creating their account and loading their files to Mpix. This digital file release system has worked very well for me over the past year and I know my clients are loving it!
If you're interested in implementing a similar program I have a variety of "Digital Kits" available here at Jamie Schultz Designs. The one shown above is included in the Cover Story Marketing Kit, but you'll also find the digital release tri-folds in the following kits as well:
Business Kit: Perfectly Panache